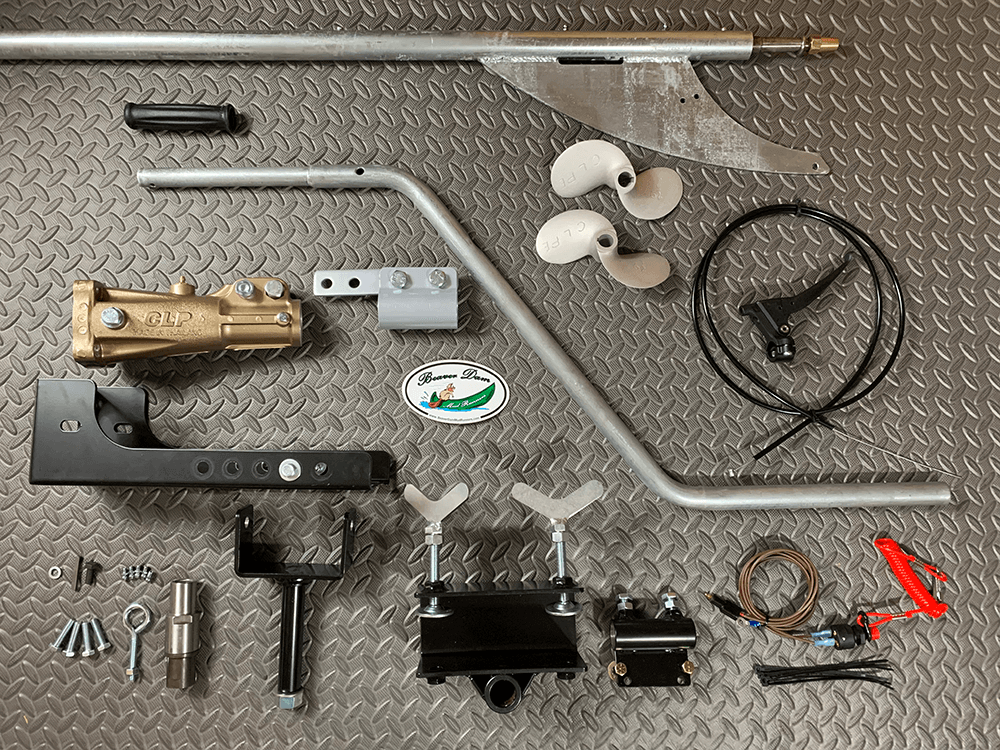 DIY Small Mud Motor Kit - 2HP - 7HP- OUT OF STOCK- PRE-ORDER SALE- $40 off- Due in the last week of October
Sale price
$475.00
Regular price
Product Description
OUT OF STOCK- PRE-ORDER SALE- $40 off- More inventory arriving the last week of October - NORMlly $515

NEW DESIGN- Will fit a 2HP all the way up to a 6.5HP!  Includes everything you need except the engine.  If  you decide you don't like the 3HP motor, upgrade the motor to a 6.5HP without having to upgrade the kit!
These kits ship as two packages.  The shaft sometimes takes a few days longer than the kit because of extra handling by FedEx.  We have inventory and ship within a day or two from Tennessee.  For Alaska and Canada shipping- email us for shipping quotes.

CLP is the leading manufacturer of Thailand Long Tails.  CLP is an engineering company that has perfected the design of the Long Tail.  Their design is the most efficient on the market.   They use high grade, polymer and metal alloy bushings unlike the competition which uses wood bushings.  The shaft is mounted to the engine with a perfect, direct fit through the use of an adapter that has splines.   The result of these features creates less vibration or power loss.  The power is transferred to the prop in the most direct and efficient way.  CLP has worked with Beaver Dam Mud Runners to develop a heavy duty Thailand Long Tail for the North American Market.  See our parts list below to see why our kit is the toughest and best on the market.
Our Kits are Certified by Honda and designed for the GX Series Engines.
LIFETIME WARRANTY ON MOST PARTS
All of our kits now include a $28 wiring harness for the Kill Switch- "Plug and Play" with most engines!  We also include $29 planing tabs!
Brands fit these kits- Harbor Freight Predator, Home Depot Lifan, Briggs, Kohler Duromax, Carrol Stream, Etc.   Fits Predator 3HP(79cc) and 6.5HP(212cc)
Go Devil 6.5HP($2000 motor) vs our 6.5HP
Video of 15ft River Hawk and 6.5 CLP going through mud,weeds, logs and stumps: CLICK HERE
Video of 16 X 48 Jon Boat and 13HP Honda going through mud,weeds, logs and stumps: CLICK HERE
See how easy these are to assemble.  No welding required.  Everything Bolts together (older kit in video but very similar to what we have now): CLICK HERE
Kits include a heavy duty metal alloy end bushing, heavy duty internal bushings, angled handle, squeeze type throttle, high quality kill switch and a spare prop (over a $150 value)-
(kit does not include a prop guard- they cost $40 extra)
Assembly of Kit-  The 2HP/3HP is a bit harder to assemble than the 6.5HP because of the tank removal and throttle hookup assembly-
Part 1 of 2/3HP assembly- https://youtu.be/zKK2zqVPq-g   and Part 2- https://youtu.be/OoE65BBwKYc
Parts included in Kit:
-Coupler Assembly with Grease Zerk Fitting- we don't use wing nuts because you should always carry a crescent wrench to change props.(helps keep you from forgetting it)  However, we send extra bolts in the kit that have wing nuts(can be used with the transom or with coupler) We also have a 3rd bolt that goes through the outer shaft- this is a precaution in case the two bolts on top aren't tight.
-Safety Kill Switch And Eye Bolt to Mount it- we use a high quality kill switch with thick hard plastic that lasts a long time in the sun - also has a button that enables you to cut the engine off without reaching down to the engine or pulling the lanyard loose
-ANGLED/BENT Handle

 

w/

 

NEW SQUEEZE TYPE Throttle

 

Control and Cable- Galvanized - Allows you to stand up or sit down when running the motor- (we offer straight handles by request also) Squeeze Throttle is spring loaded and has plenty of play to go from idle to full throttle. - You can adjust the height of the handle by tilting it left or right.  Most jon boats have a rear seat that gets in the way of maneuvering the motor with a straight handle.  We suggest getting a bent handle- If you don't like it, buy a piece of pipe at the hardware store for a straight handle.  Most people like the adjustable bent handle.
-65" or 85" Galvanized Heavy Duty Shaft-  Three grease fittings - We Don't Use Wood Bushings like others. 

 

We only use High Grade Polymer and Metal Alloy Bushings. 

 

Our end bushing is a metal alloy

 

because weeds and fishing lines can easily burn up a plastic end bushing.  

Some companies offer upgraded shafts and bushings for an extra price but all of our shafts are heavy duty and designed for a variety of environments including saltwater. 

-we recommend an 85in shaft for most jon boats and that is the size that ships with our kits.  A 65in shaft will work on some small layout type boats and kayaks.(email us to order the 65in)

-Engine and Throttle Handle Bracket- Heavy Duty Thick Steel with Bushings and Grease Fittings- Option for right or left hand steering

- We use heavy duty tubes with large bolts to secure the handles to the engine bracket unlike our competition that uses two small separate brackets with

-THREE Aluminum Surface Piercing Props-

 

5in/5.5in/5in weedless for 2-3HP  OR  6.5in/7in/6in weedless props for 4-7HP
-Wiring Harness

 

- It is "Plug and Play" and makes it very easy to wire the kill switch. (normally $28)
-Planing Tabs- If needed, help keeps prop in the water.(normally $29)
-Transom Bracket
-All hardware needed for assembly except the engine
Our kits have gone through extensive testing by Honda in the USA and are certified by Honda to work with a GX200 (both in the USA and Thailand)
Engine Specification Requirements for 2 - 7HP
2-4HP Shaft requirements
-Horizontal output shaft
-5/8 inch diameter (non-tapered) with keyway
-Shaft Length- 2-7/16"
5-7HP Shaft requirements
-Horizontal output shaft
-3/4" inch diameter (non-tapered) with keyway.
-Shaft Length- 2-7/16"
2HP to 7HP Bolt Patterns
Side cover bolt circle diameter must be: 3 5/8 inches
Base bolt pattern must be: 3 1/8″ X 2.4″ OR 6 3/8" X 3 1/8"
Here are some examples of some engines that will fit our kits:
2-4HP Engines
Harbor Freight - Predator Engine - 3hp (79cc) - 69733
Lifan Engine- 3HP- 79cc- Sold at Home Depot- LF152F-
Honda 3hp (98cc) - GX100QA2
5-7HP Engines
Briggs 205cc models: 122032-0536-B8, 122037-0550-B8
Carroll Stream Engines: 5.5hp, 6.5hp
Duromax 7hp XP7HP, XP7HPE
Harbor Freight: 6.5hp Predator 212cc and 6.6HP Predator 224cc
Home Depot: 6.5hp Lifan 196CC models: LF168F-2BQ, LF168F-2BDQ
Honda 5.5hp GX160 models: GX160UT1QX2, GX160UT1QXP2, GX160UT1QXC9
Honda 6.5hp GX200 models: GX200UT2QX2, GX200UT2QXE2
Kohler 6.5hp SH265-0011, 7hp CH270-0103, CH270-3011, CH270-3031, CH270-3105